Ingredient Checker allows to take a look inside your beauty and skincare products to find out how beneficial or harmful they can potentially be. When you apply serum, cream, or powder to your skin you put your health at risk. Wrong components can irritate or dry your skin, clog pores and lead to other unpleasant things. The only way to avoid this is to look at the ingredients list. We are here to simplify this process.
You no longer need to search for components and their effects on Google. Just open our website! We have prepared a lot of useful information about each component and our analyzer puts all this information together. You can:
Identify potentially harmful components. Our analyzer shows all the allergens, alcohols, silicones, chemical fragrances, and so on. We will not only highlight all these components but will also tell the information about why you should avoid them.
See all the useful ingredients and their positive effects. We highlight moisturizing, anti-aging, soothing components, antioxidants, UV filters, and so on. You will find a lot of information about how beneficial the product is.
It's better to try the tool once and see how it works, rather than read about it. Here is a list of ingredients you can use to try the tool:
Water, Propanediol, Glycerin, Sodium Methyl Cocoyl Taurate, Cocamidopropyl Betaine, PEG-120 Methyl Glucose Dioleate, Salicylic Acid, PEG-150 Pentaerythrityl Tetrastearate, PEG-6 Caprylic/Capric Glycerides, Betaine, Zinc PCA, Phenoxyethanol, Sodium Chloride, Allantoin, Sodium Hydroxide, Coco-Glucoside, Glyceryl Oleate, Benzyl Alcohol, Coconut Acid, Ethylhexylglycerin, Sodium Benzoate, Citric Acid, Dehydroacetic Acid, Trisodium Ethylenediamine Disuccinate, Tocopherol, Hydrogenated Palm Glycerides Citrate
Just copy the list, paste it into the field above and see the result. Easy, fast, and free!
Enjoy In-depth Reports
First of all, you will see a decoded INCI list of components, where the most useful are marked with special labels like: AHA, BHA, PHA, UV and so on to catch your attention. The most beneficial are marked with "Brilliant" label. These components are amazing and are very effective. You can click each title and enjoy the extended description of the ingredient in a popup window. You can also view the original list of components as it was mentioned on a product label before our Ingredient Analyzer did his job.

Don't hesitate to click elements! Most of the titles are clickable and you will see extra information after you click them.
Next you will see what ingredients are good or bad for your skin type. This metrics helps to find "hostile" ingredients you should pay attention to. For example, Alcohols can irritate dry skin and thus will be marked as "Bad for Dry Skin".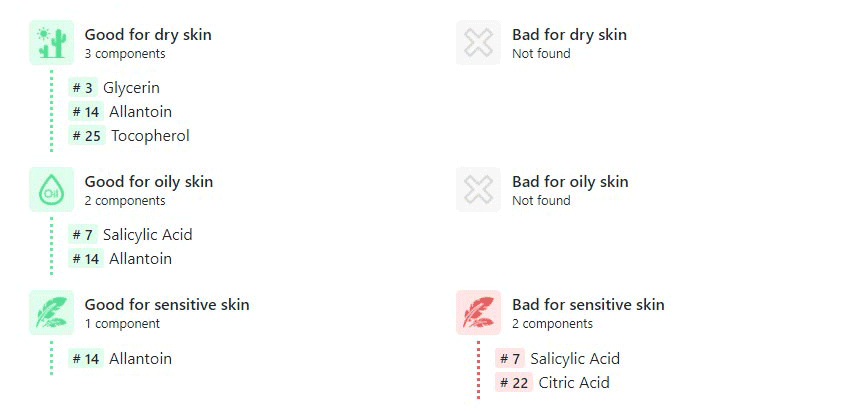 After this you will see a Comedogenic Profile. This is a nice metric if you are suffering from blackheads and acne. You will not only see the comedogenic components but will also see their comedogenic rating in the top right corner.

Positive effects will highlight the benefits of the current product and the number of ingredients with certain trait.
Dangerous components section will highlight all the ingredients that can affect your skin in a bad way. You will see Alcohols, Allergens, Fragrances and Fungal Acne Feeding stuff. It's better to pay attention to this section if you have problem skin.
Next you will see all the Controversial Components we have found in the product. Controversial meaning that these chemicals are considered as safe, but not all people want to see them in their products. Parabens, Silicones, Sulfates and PEG are used by manufacturers very often. Multiple researches show they are safe. But who knows… We just inform you that they are in the INCI list and it's you to decide what to do next.
Manufacturer Info contains some details about the manufacturer. You will see if the brand is vegan, cruelty free, has Leaping Bunny and PETA certificate. It's great that you can see all these details in one place.
The final Expert View section has the list of ingredients with all the details we know about them. It's a very informative section for detailed research.
Don't believe what manufacturers say!
Everybody knows, that manufacturers always say only good about their products. But if you read skincare forums you will see many posts about irritation, redness, acne, and other bad things after using this or that product. The truth is: brands rarely highlight potential threats...
We are an independent website. We don't promote brands. Our main goal is to provide you with fair data. And it's you to decide what to do next.
We are all different!
Every person has different skin. Some people can use all skincare products and enjoy the result while others have sensitive skin and need to pay attention to what they use. Moreover, different people react to the same components differently.
That's why you should use our tool. You can compare products and identify which components can potentially harm your health. If you have a negative reaction, you can find out what component causes this.
Frequently Asked Questions
Why Skin Signal?
Our website isn't the only. There are other skincare ingredient checkers like CosDNA. Some of them work well, others are abandoned and contain outdated information. But we are different. We show more details about the components and provide more features. Our reports are easier to read and understand.
What are the usage limits for the Analyzer?
There are no limits and you can use all the tools on our website as much as you want. Our goal is to create a user-friendly place for your daily researches.